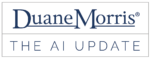 from the Duane Morris Technology, Media & Telecom Group
#HelloWorld. Welcome to the first edition of The AI Update. Every other week, we'll provide you with a curated summary of the most relevant, impactful legal developments in the world of AI. Let's stay smart together.
Our mission: Since ChatGPT's public launch last November, the onslaught of AI-related news has been daily and relentless. We've guided our clients one-on-one about legal developments, the knowns and unknowns, and what we see coming down the road. So much so that a centralized information exchange—this newsletter—feels like a logical next step. Why every two weeks and why only one page? So as not to continue the flood. What if you want more detail? Contact us individually and we'll get you up to speed. There's a lot of noise out there; we try to focus on the signal.
Regulatory activity in the U.S.: For now, two agencies have emerged as the most vocal in the AI space (at least in public). The Copyright Office released guidance on how to seek copyright protection for works created with generative-AI assistance. In short: a human author is required and any AI-tool use must be disclosed and disclaimed. The Office is also holding a series of public listening sessions on this and other related AI topics, like the use of copyrighted works to train AI models. The sessions start on April 19—stay tuned for highlights in future editions of The AI Update.
At the end of February, the Federal Trade Commission issued some colorfully worded guidance warning against overhyping AI: "Keep Your AI Claims in Check." Previously, in 2020, the FTC published best practices on mitigating bias, deception, and privacy problems in AI offerings. The first test case is already live: At the end of March, the nonprofit Center for Artificial Intelligence and Digital Policy filed an FTC complaint against OpenAI claiming that its GPT-4 model failed to adhere to these FTC policies.
Regulatory activity overseas: The latest news is from Italy and echoes the FTC complaint. On March 31, Italian regulators temporarily banned ChatGPT in the country, out of a concern that the model is processing private personal user data and exposing its services to users under the age of 13. The chance of Italy's ban becoming permanent—or a permanent ban throughout the European Union—is negligible, but it'll be interesting to see what regulatory arrangements emerge.
What we're reading and following: A group from Stanford University just published a fascinating paper testing multiple large language "foundational models" like GPT-3 for various copyright-infringement risks. The paper adds some intriguing empirical observations to the ongoing debate about whether training on books, articles, and other online copyrighted works qualifies for fair-use protection. Time well spent for IP lawyers.
What should we be following? Have suggestions for legal topics to cover in future editions? We'd love to hear from you and continue the conversation.
Editor-in-Chief: Alex Goranin
Deputy Editors: Matt Mousley and Tyler Marandola
Subscribe to the mailing list to receive future issues.