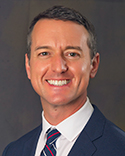 By Edward Cramp
Clients of the Duane Morris law firm deserve the very best legal representation.  It does not matter what kind of client they are.  We have clients of all shapes and sizes.  Some are publicly traded companies with large internal legal departments.  Others are family businesses that have served their communities for generations.  And, some are pro bono clients who need our advice to do good in the world.
Regardless of who the client is, they deserve the best.  Our lawyers and staff can only give their best if they feel supported and accepted at work for who they are and who they love.  Only then will they bring their whole self to the profession.
Members of the LGBTQ+ community have been welcome at Duane Morris for a very long time—much longer than my nearly 20 years of service to the firm.  We started our LGBTQ+ employee resource group—Duane Morris Pride– to make sure that the message is heard clearly by everyone in our community.  We want everyone to know, but especially our colleagues, that this is a place where queer people can thrive and have a great career.
We think our clients benefit greatly from our open and welcoming culture.  They get fully engaged, enthusiastic legal representation driven by diverse lawyers and staff who know we value their voices and viewpoints.  When our team members feel welcome to bring their whole self to the table, our clients, our firm, and our community all win.