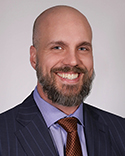 Nobody should feel smarter than their lawyer. Whether you're on death row or in a corporate boardroom, legal counsel should provide you with peace of mind. This becomes impossible with one sniff of incompetence or uselessness.
The need for relevancy will drive blockchain adoption in the legal industry. As customers learn how blockchain (and smart contracts in particular) improve security, they may seek out lawyers who understand it too.
[…]
"The biggest trend that will shape blockchain use and adoption in the legal industry is the increased use of artificial intelligence in the legal industry.  The rise of AI solutions and products to assist in contract drafting, litigation, and other legal services will require the use of secure tracking and storage systems that can be directly integrated with the AI solutions. Blockchain is well positioned to fulfill that requirement."
To read the full text of this article quoting Duane Morris attorney Daniel Tarr, please visit the Disruptor Daily website.