By Constantine Mittendorf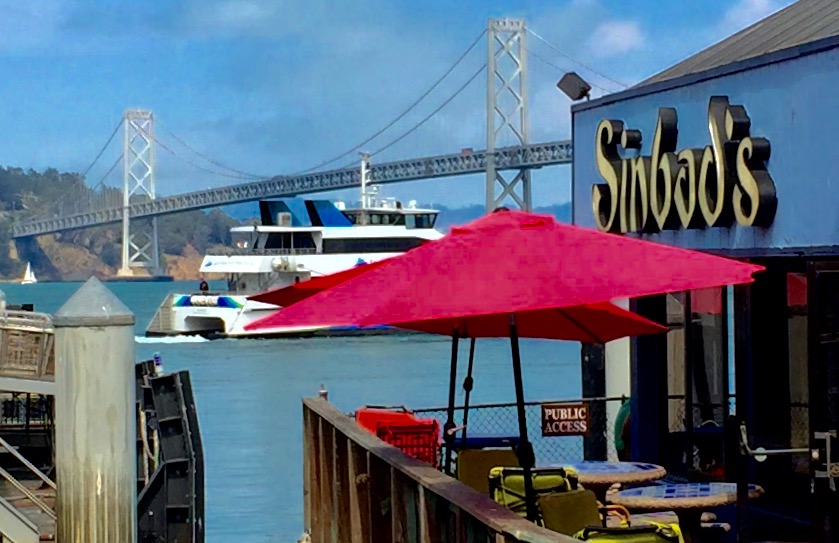 The owners of Sinbad's spent last week in San Francisco Superior Court. They have been in an ongoing battle to keep their 40 year old bay-front restaurant afloat.
As we reported earlier, the Port of the City of San Francisco wants to make room for a larger ferry terminal. So when Sinbad's lease ran out, the City refused to renew it. Sinbad's refused to leave, the City sent a notice of eviction, and Sinbad's still refused to leave. Then Sinbad's sued the City for allegedly acting in bad faith, and the City sued to evict Sinbad's.
Last week, it came down to a jury trial to hear the City's eviction case. Sinbad's lost.
I was able to speak with one of the jurors about how the jury saw the case. He said the jury deliberated for nearly two days, and they considered the long story of the Sinbad's eviction. The jury learned about government agencies involved in the ferry terminal expansion. It learned about the public hearing process and how Sinbad's had belatedly and unsuccessfully opposed the expansion. Also, the jury learned about a signed agreement between Sinbad's and the City from 2012 – Sinbad's agreed to vacate the property by the end of 2014, and in turn, the City agreed to forgive $85,000 in rent.
However, when 2014 came to an end, Sinbad's refused to close its doors.
"It's like a game of chess. One side makes a move, then the other side makes a move."
The juror I spoke to was sympathetic to Sinbad's and its employees, but also felt that Sinbad's was probably "gaming the system" to stay open as long as possible. In the end, the jury found in favor of the City in a 10-2 vote. Then on Friday, the court ordered Sinbad's to pay $71,616.44 in additional unpaid rent. The court also allowed the City to recover the restaurant property.
Later that day, I called Sinbad's to see if it was still open. Turns out, it's still open and there are no plans to close anytime soon. The person I spoke to said "it's like a game of chess. One side makes a move, then the other side makes a move." Looks like Sinbad's could be taking the full amount of time allowed by law to consider an appeal.  In the mean-time, it's open.
One thing is for sure, whether Sinbad's is playing the system or getting played, knowing the rules is absolutely necessary in the restaurant game.
We will keep you updated.